Now, permanently FREE on Amazon!
A new Edgy Catholic Series…
ELEKTRA VOLTRE: BLESSED WITH AWFUL
"On the day of my baptism, I killed my father…" So begins the story of Elektra Voltare, a teenager raised in a monastery, bred for an environment of mass extinction, separated from a world her mutant power would disrupt into chaos. Caught between the ruling powers who would dissect her, harvest her power, and use her DNA to create a bioweapon and those who would use her powers to disable all electronic weapons and tools, Elektra must resist the temptation to bring on an even darker future…
Get your FREE EBook today!
Links to Amazon are affiliate links, which means we get a little commission if you buy anything
The Story Continues…
Book 2 of the Edgy Catholic Dystopian Series
ELEKTRA VOLTRE: Eve of the Memes
The Elektra Voltare story continues in Elektra Voltare: Eve of the Memes. Elektra, having gained control of her mutant power to absorb electricity, journeys outside the walls of her lead-lined cell to rescue others of her kind at the Most Holy Trinity Monastery after a suicide bombing attack and faces the temptation to be come "Eve of the Memes"–the mother of a race of superpowered humans.
Now Available in EBook and Paperback!
Book 3 of the Edgy Catholic Dystopian Series
ELEKTRA VOLTRE: Instrument of God
Having resisted the temptation to become Eve of the Memes, Elektra faces further perils as she journeys back to the safety of her monastery, including a brain-wiping meme named Michael and Agent Fox of the Ministry of Peace. But most terrifyingly, Ahkmed, the lightning hurling meme and his posse hunt for her, seeking to enslave her and use her powers to neutralize the weapons of their enemies, setting up a climactic final showdown and a surprising twist.
Buy Me a Coffee?
I keep getting reviews suggesting something along the lines of "Everyone needs to read this book," and "It doesn't pull any punches." Price should not be an obstacle to something that needs to be read. And who wants to pay for a punch in the face? So, much of my best work is available for free. If you appreciate my work, rather than paying a few dollars for an EBook, why not read one for free, then, if you like, buy me a coffee?

EdgyCatholic.com uses Amazon Affiliate links.
Another easy way to support our efforts is by simply clicking on any link that goes to Amazon, and then buying something while you are there, even if it is not one of our books. We get a tiny amount of extra money for referring you there. If you go directly to Amazon on your own, Amazon keeps this extra money. So, we encourage you to use our links whenever you shop at Amazon.
So, what is Edgy-Catholic?
Edgy-Catholic is a genre of fiction with a positive, Christian/Catholic viewpoint, that is not intended for the whole family, and may include significant levels of violence, including supernatural violence, or sexual situations. If we use the movie rating system, we are talking about works with at least a PG-13 rating, but with a Christian/Catholic viewpoint, or at least religious content that is not hostile to the Catholic perspective.
So, is this something new?
Well, only the name is new. Many very accomplished Catholic writers of the 20th century wrote works for mature audiences that were lumped in with other works of their particular genres and the religious viewpoint was not really fully considered as part of their genre. We can think of one of the top-grossing horror films of all time, The Exorcist, as an extreme example of an edgy, yet Catholic, work. We can also look at fiction by authors like Graham Greene and Flannery O'Connor, who span some genres in their work, but have a common quality of being from a Catholic perspective, and addressing mature themes.
As we turned the page into the 21st century, most of the more edgy content for mature audiences became more suspicious of religion, or outright hostile to it, while content including religious themes became more family-friendly. While it makes sense that religious men and women busy raising their families would gravitate toward more family-friendly fare, and the market would respond, the risk is that religion becomes associated with watered-down content that is meant to be left behind as adulthood approaches, and the cool and trendy thing to do is to graduate into content that avoids a religious perspective entirely, or worse, is openly hostile toward religion.
So, the modern version of 1 Cor 13:11, "When I was a child, I used to talk as a child, think as a child, reason as a child; when I became a man, I put away childish things" has become, "When I was a child, I believed in religious stuff, but when I grew up, I left that nonsense behind." Not quite what St. Paul was talking about, though. In fact, the examples of Catholic saints, like St. Augustine, are quite dramatically the opposite. The childish things St. Augustine left behind are the things our young adults gravitate toward, as being "Adult," or "Mature."
This quote from Flannery O'Connor sums up the edgy-Catholic perspective:
"The novelist with Christian concerns will find in modern life distortions which are repugnant to him, and his problem will be to make these appear as distortions to an audience which is used to seeing them as natural; and he may well be forced to take ever more violent means to get his vision across to this hostile audience. When you can assume that your audience holds the same beliefs you do, you can relax a little and use more normal ways of talking to it; when you have to assume that it does not, then you have to make your vision apparent by shock — to the hard of hearing you shout, and for the almost blind you draw large and startling figures."
For saying stuff like that, they put Flannery on a postage stamp. Not sure what she would have to say about that…
FREE EBOOKS
So, here are my free books. I seemed to be cursed with an ability to write books that "need" to be read, so give them a read for FREE! I would feel bad if you missed out because you couldn't afford it…
Yours FREELY!
"…a chilling, unpredictable, fascinating story which I couldn't put down."
"…I think this is a book that needs to be read."
A book that needs to be read? Ok, so now you can read this Edgy-Catholic Thriller for FREE!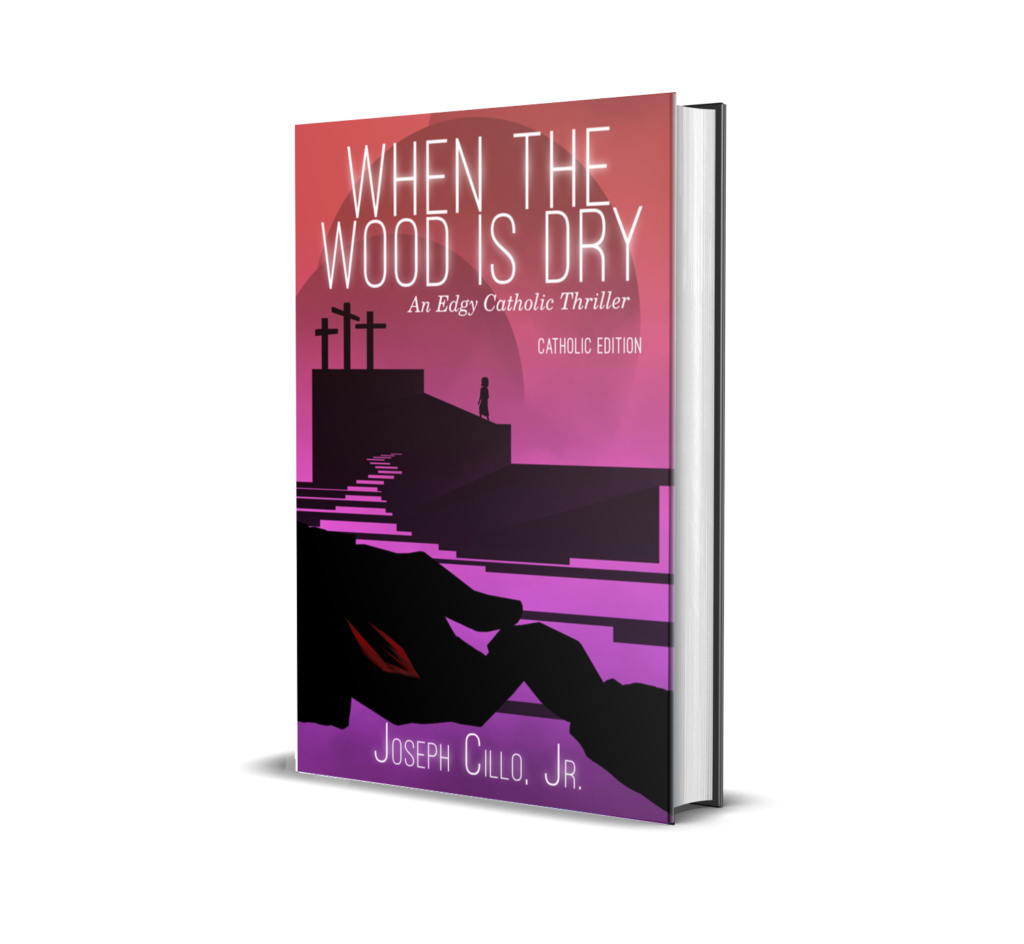 When the Wood Is Dry: An Edgy Catholic Thriller–Catholic Edition
"Sometimes we must suffer if we are to save souls."
Jesus' words echo in a recurring dream to Lali Russo, a seventeen-year-old Catholic school girl.
Lali wakes and asks, "Why that dream again?"
Haunted by her ominous dream, Lali prays the rosary at an abortion clinic, as she would on any other day. Glancing up, a distraught, pregnant drug-addict approaches the clinic. Lali counsels the girl against having an abortion and walks her home where she meets the girl's boyfriend, a notorious gang leader. Ralo glares at her, as sharpens his machete.
"Go away, little girl, this is no' ju beesness."
Merry Friggin' Christmas: An Edgy Christmas Comedy
2019 Illumination Book Awards Bronze Medal Winner!
The perfect gift for that Bah-humbug! in your life!
A funny book about Christmas and a dead comedy man…"
"…takes the cake as the best of the holiday season. It has charisma, a fantastic voice, and it was funny as all hell."
"A fresh and funny take on the holidays…"
Read it, at least once, before you die…
Blind Prophet: Episode 1, A Prophet Is Born
Check out Blind Prophet!
Reviews have said things like:
"…The concept is beautiful, the execution mind-bending."
and
"It most certainly does not pull any punches…"
and
"In all honestly this book really shook me up…this book is scary because it could happen."
Pretty extraordinary commentary for a comic book, don't you think?
Blind Prophet is the story of a boy, Daniel Prophet, born blind and autistic, who undergoes an experimental procedure that gives him the ability to peer into the spiritual realm, where demons tempt, and angels defend.
Blind Prophet is kind of a blend between the Dead Zone, The Sixth Sense, and the Screwtape Letters.
Or, if you want to keep the comparisons to comic books, maybe Daredevil and Constantine.
Get started on your Blind Prophet Adventure for FREE!
The YouTube Video for the "I Was There" meditation adapted from "When The Wood Is Dry: An Edgy Catholic Thriller" captures the text the way it is meant to be read! Check it out and enjoy! Check Out The YouTube Video!
Digging Edgy Catholic? Be a Patron, and get early access to blog posts, reviews, pre-publication works, etc. Check it out at Patreon!
Become a Patron!
Amazon links throughout this website are affiliate links. We receive a small commission for referring you to Amazon if you make any purchases. Our commission in no way affects your costs.